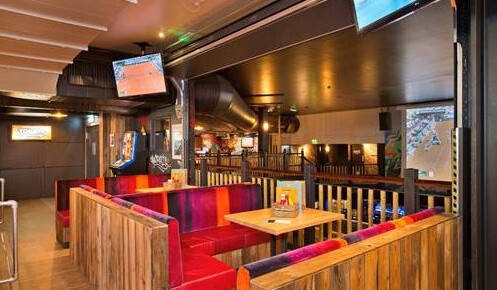 Walkabout Bar Table & Booth Packages
00006
Experience the true spirit of Down Under at Walkabout
Product Details
Amount of people packages based on:
£130 miimum spend per 10 people
Experience the true spirit of Down Under at Walkabout
The ultimate Australian-themed bar. Secure a reserved table with our Booth package deals and transport yourself to the land of kangaroos and koalas.
By booking a booth, you're not just reserving a table; you're reserving a piece of Australia. Immerse yourself in the vibrant atmosphere, surrounded by Aussie memorabilia and a playlist that'll have you tapping your feet to the rhythm of the outback.
With our Booth package, convenience is key. Enjoy priority seating for your group, a dedicated server delivering mouthwatering Aussie bites and thirst-quenching drinks to your table. No need to miss a moment of the action while waiting at the bar.
Elevate your night out with the charm and comfort of a reserved booth at Walkabout. It's your ticket to an unforgettable evening of Australian hospitality and fun. Book your booth today and let the adventure begin!
Walkabout is renowned as the premium Australia-themed chain of bars in the UK. Loads of drink promotions, food & imported Aussie drinks. It's a great place to watch sports on big HD TVs during the day and rip up the dancefloor in the evening 😊
Walkabout bars are awesome venues for a pre-club drink, or to stay and party away the night.
There is a good selection of Aussie inspired street food all day with lots of offers. Walkabout is a great location to book any party, whether that's a Birthday Party, Office Party, Australia Day, Hen or Stag Party or even just an impromptu night out.
Book guestlist entry with a reserved table and a drink package to make sure you're not waiting outside in the cold on busy nights (and you have a base for the night for your group).
[powr-form-builder id="6149f51e_1625145020"]

Save this product for later