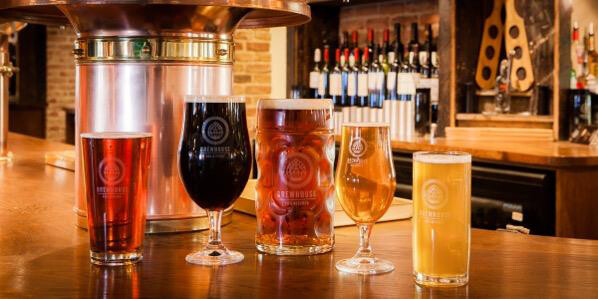 The Ultimate Beer Tasting Masterclass
3522
Experience the Art of Beer Tasting
ProductDetails.QuantityLimit.minmax
Product Details
Times available:
hourly throughout the day
Experience the Art of Beer Tasting with Brewhouse & Kitchen!
Are you ready to embark on a beer adventure like no other? Join us for our Beer Tasting Masterclass at the renowned Brewhouse & Kitchen, where your taste buds are in for a treat. Whether you're a seasoned beer enthusiast or just curious to explore the world of craft brews, this experience is perfect for groups looking to sip, savor, and learn about the wonderful world of beer.
What's Included:
🍻 Expert Guidance: Learn the art of beer tasting from an experienced B&K Beer Expert who will be your guide through this flavorful journey. Plus, enjoy an exclusive brewery tour to get an inside look at the beer-making process.
🍻 6 Beer Tastings: Indulge in a selection of renowned craft beers, each offering a unique flavor profile. With approximately 1/3 pint per tasting, you'll sample a variety of brews that span the globe, including some crafted right on-site.
🍻 Table Nibbles: Nosh on delectable table nibbles that complement the beer experience. From nuts to rice crackers, these snacks are the perfect accompaniment to your tastings.
🍻 B&K Beer: Dive into the world of Brewhouse & Kitchen with a pint of their signature craft beer. Whether it's from the brewery's cask or keg, you'll savor the distinct flavors of B&K's own creations.
🍻 Sumptuous Classic Burger Meal: After your beer adventure, indulge in a mouthwatering classic burger meal, available in both meaty and vegetarian options. It's the perfect pairing to round out your tasting experience.
What Happens at the Beer Brewing/Tasting Class?
🍺 Arrival: Arrive at your selected time, where you'll be warmly welcomed by our friendly and experienced Beer Expert. Take a moment to unwind and relax before the fun begins.
🍺 Beer Appreciation: Dive into the world of craft beer as you explore a wide range of flavors, including local brews, on-site creations, and selections from around the world. Discover the nuances that make each beer unique.
🍺 Brewery Tour: Enjoy an exclusive tour of the on-site microbrewery, where you'll gain insights into the brewing process and the history of beer-making.
🍺 Insider Insights: During the session, you'll learn the basics of brewing, uncovering the secrets of crafting the perfect beer. It's an informative and enjoyable experience designed for party groups.
🍺 Duration: The Beer Tasting Masterclass lasts approximately 2 hours, including ample time to savor a delicious Burger meal.
Booking Availability:
📅 Availability: Our Beer Tasting 'mini' Masterclasses are held on Fridays at 2pm and Saturdays at 12pm. These sessions typically last around 2 hours, ensuring you have enough time to relax and enjoy your classic burger.
📅 Booking in Advance: We recommend booking at least 28 days in advance to secure your spot, as these experiences are highly sought after and slots are limited.
Please Note:
🚨 Allergies: If you have any food allergies, please inform us upon arrival at the venue.
📈 Group Size: Maximum numbers may vary based on the venue, so please check with us for venue-specific details.
Join us at Brewhouse & Kitchen for a beer-tasting journey that's both educational and delicious. Book your Beer Tasting Masterclass today, and let the beer adventures begin! 🍻🎉
[powr-form-builder id="6149f51e_1625145020″]

Save this product for later