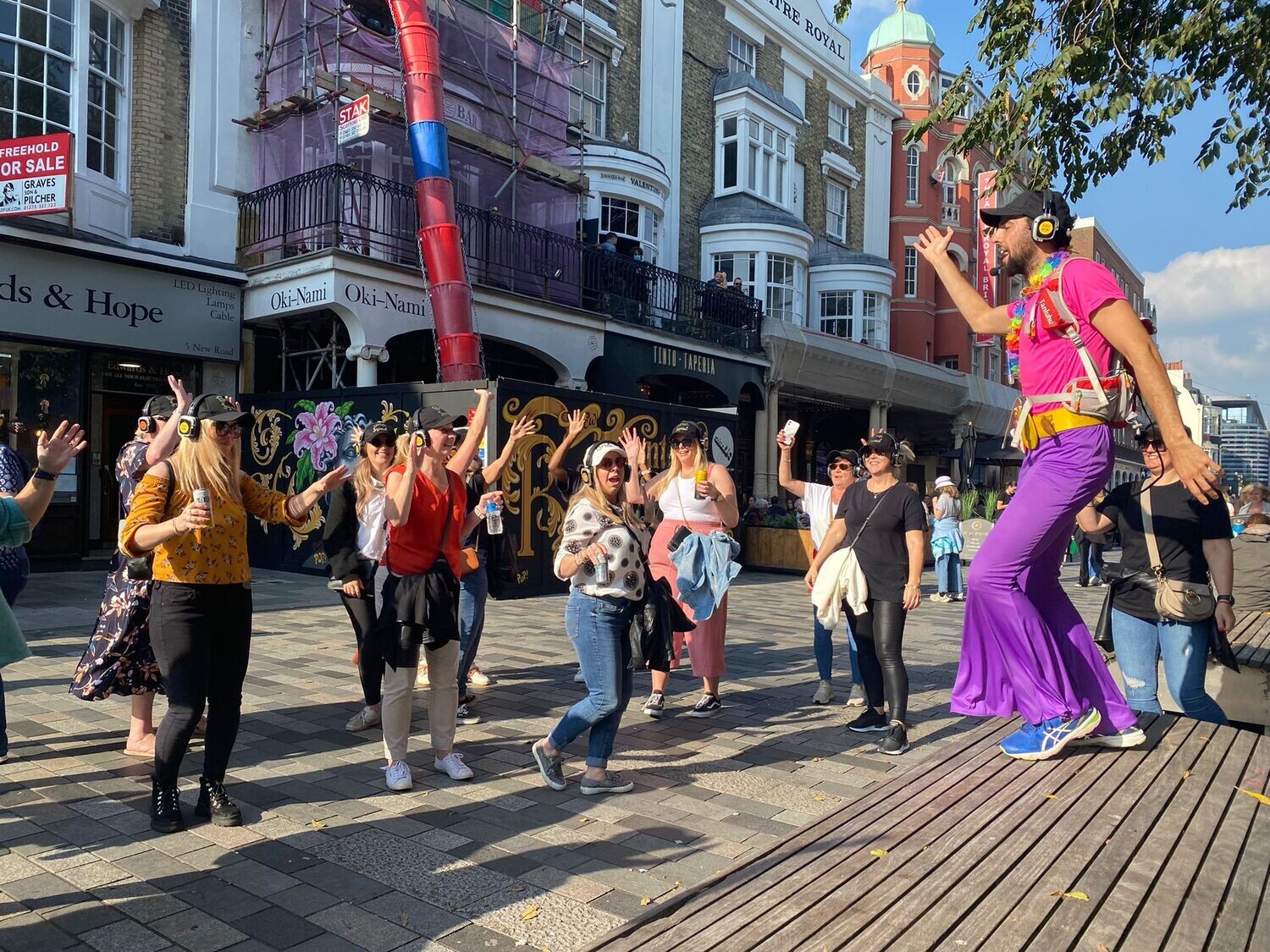 Silent Disco Tour in Brighton
00019
Spontaneous 'Flash-Mob' Dancing. A World of Joy and Rhythmic Bliss with Silent Disco Walking Tours
Product Details
Locations available:
London & Brighton
Step into a World of Joy and Rhythmic Bliss with Silent Disco Walking Tours
In the bustling streets, a hidden world of play, love, and laughter awaits, accessible only to those who dare to wear the enchanted headphones provided. It's a private audioscape, a collective journey guided by the rhythm of uplifting dance music from the iconic eras of the 70s, 80s, and 90s. Joining this symphony is the infectious and playful commentary of your tour guide, a maestro of mirth.

Here's what you can expect on this extraordinary adventure:
Spontaneous 'Flash-Mob' Dancing: As the music surges through your headphones, an irresistible urge to dance takes over. Suddenly, you're part of a spontaneous flash-mob, moving to the same rhythm as your fellow adventurers.

Interpretative Dancing and Singing: Local landmarks become stages for your creative expressions. Dance with wild abandon, sing your heart out, and celebrate the city like never before.

Fun Commentary and Laughter: The tour guide's commentary is not just informative; it's a delightful intervention designed to tickle your funny bone. Laughter reverberates through the streets, creating an atmosphere of pure joy.

Keeping Fit: While you're lost in the music and movement, you're also getting a fantastic workout. It's exercise that feels like a celebration!
Community Connection: Silent Disco Walking Tours transcend age and demographics, bringing together people from all walks of life. It's a celebration of diversity, where strangers become friends through shared rhythms and smiles.

Re-imagining Our Streets: These tours offer a unique perspective on the familiar streets you walk every day. They become a canvas for your imagination and creativity, a place where the ordinary transforms into the extraordinary.

Tours are a testament to the magic of human expression. We create an environment where inhibitions melt away, and individuals are free to be themselves. While we never compel anyone to act the fool, our invitations to play are irresistible. People naturally find their unique level of expression, and every step becomes a dance of self-discovery.

The Origin of Silent Disco Walking Tours:

This enchanting concept was born in 2013 when Guru Dudu breathed life into the stationary Silent Disco format. Since then, it has evolved into a global phenomenon, captivating hearts and souls in cities around the world.

So, are you ready to step into a world where the streets pulse with music, laughter, and uninhibited joy? Join us on a Silent Disco Walking Tour and let your spirit dance like never before!
Meet Señor Samba - Our Brighton Show Host!
Don't be fooled by Señor Samba's charming demeanor; he's a party animal! With an unwavering passion for music and dance, he's on a mission to share the groove with everyone. As Fred Astaire once said, "Let's face the music and dance."
Señor Samba's world is painted in turquoise, and his motto is simple: "Enjoy the music, even when it ends."
Played by Rikesh Chotai, hailing from the picturesque city of Brighton, UK, he's an adrenaline junkie who loves adventure. You might catch him skydiving or bungee jumping, even while on fire! In addition to his showmanship, Rikesh has a background in teaching and business consulting. He is also a great fun Dude to be about, especially once he dons his headphones of Joy.... Legends are born this way.
[powr-form-builder id="6149f51e_1625145020"]

Save this product for later