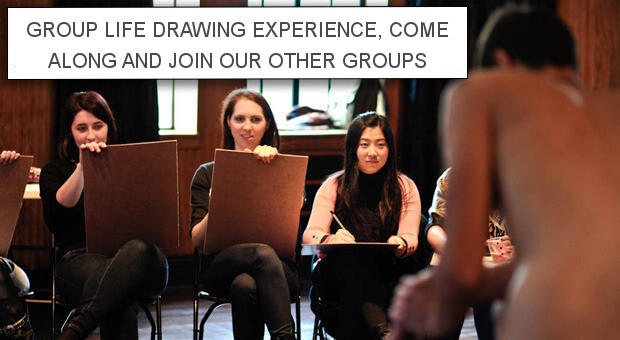 Drink 'n' Draw Hosted Life Drawing Party
00044
The Number one Life Drawing, Hen Party and Group Experience in Bournemouth
Product Details
Locations available:
Available Nationwide. If you cant see yours in the location tab, send us an email
Times available:
2pm Every Saturday
Priority entry included?:
Re-admission later in the evening
🎉 Introducing Drink 'n' Draw: The Ultimate Life Drawing Party! 🎨

Get ready to embark on a creative adventure like never before! Every Saturday afternoon, Revolution DeCuba Bournemouth transforms into the hottest spot in town for an unforgettable experience that combines art, laughter, and a whole lot of fun. 🍹🎉

🚀 Why Drink 'n' Draw is the New Wave of Entertainment:

🌟 Unique Concept: Tired of the same old afternoon events? Our life drawing party is here to revolutionize your social calendar. It's not your average life drawing class! Join us for an exciting twist on art and entertainment.

🎨 Live Model: Our parties feature a charismatic host, a talented art instructor, and a hunky male model who'll be your muse for the day. Get ready to unlock your artistic potential and create stunning sketches.

🥂 Liquid Courage: Enjoy a delicious drink from the bars extensive menu while you unleash your creativity. It's the perfect blend of relaxation and inspiration!

🎉 Social Hub: With a capacity for up to 160* people, Drink 'n' Draw is your go-to event to meet new people and make lifelong friends. Our experienced instructor and lively event compere ensure the energy remains sky-high throughout the class.* location specific, may vary.


🌟 See it to Believe it: Don't take our word for it; come and experience the magic yourself! Bring your friends, or come solo and immerse yourself in a world of creativity and laughter.

📢 Limited Spots: Hurry and secure your spot today because spaces are limited. Let's create unforgettable memories together! 🥳

📆 Event Details:
📍 Location: Available Nationwide
⏰ Time: Every Saturday afternoon
⌛ Duration: Approximately 1.5 hours
Whether you're part of the brunch crowd, a couple looking for a unique date, or a group of friends seeking adventure, Drink 'n' Draw is perfect for all skill levels. No prior experience required – just enthusiasm and a willingness to have a blast!
🎉 Drink 'n' Draw: The Ultimate Life Drawing Party Class!
🌟 Saturdays at selected locations Nationwide
🎨 Unique concept for a fun-filled afternoon
👨‍🎨 Host, art instructor, and hunky male model Included
🥂 Enjoy drinks while you draw
🌟 Socialize with up to 160 attendees
📢 Lively instructor and event compere
📆 Limited seats, book today!
🍹 Perfect for brunch-goers, couples, and groups
🎨 No experience required; all supplies provided
🖌️ Let's create masterpieces and memories together!
Save this product for later