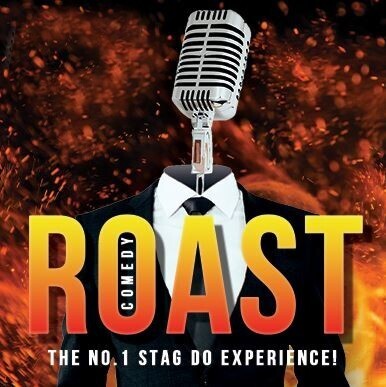 Comedy Roast - The ultimate Stag Do Prank
1663
Comedy Roast your friend. Squirming hilarity.
Product Details
Locations available:
Available Nationwide. If you cant see yours in the location tab, send us an email
Central location?:
We do our best. You can choose a venu or we can help
Give Your Friend the Ultimate Stag Party Send-Off with a Comedy Roast
Are you looking for the perfect way to roast your best mate before he ties the knot? Look no further! A Comedy Roast is the ultimate stag party prank that guarantees laughter, banter, and unforgettable memories.

The Ultimate Stag Banter:
A Comedy Roast is not your typical stag night; it's a fully bespoke stag wind-up experience that's available anywhere in the UK. Here's how it works:
Specific to Your Stag: You'll tell your friend that it's just an ordinary stag night out at a bar, restaurant, or even a regular comedy show. Little does he know; he's about to be publicly roasted and stitched up in front of a live audience of strangers.
Your Stag, the Star: Your stag takes center stage as the star of his very own comedy roast show.
Supply the Material: You and all the stag's friends provide the information we need to create this one-of-a-kind event. It's all about sharing stories and details about the stag.
We are The Original Comedy Roast Provider: We've been providing comedy roasts in the UK for over 15 years. You can trust us to deliver a memorable experience.
Information Deadline: We need all the stag's information 14 days before the event, giving our comedians time to craft the perfect material.


What Is a Comedy Roast?
In a nutshell, a roast is a lighthearted tradition where friends and family come together to poke fun at the guest of honor, all in good spirits. Here's what you can expect:
The Roastee: Your stag will be the center of attention, and no one is safe from the banter.
The RoastMeister: An experienced host will guide the event, ensuring it's a night to remember.
Popular in the USA: Comedy roasts have been a beloved tradition in the USA for decades.
Tirade of Comedy Insults: It's all about humorously roasting the 'Roastee' with a mix of true and untrue stories.
Deflecting Insults: The 'Roastee' should be prepared to laugh at themselves; after all, it's all in good humor.

Event Duration:
A typical roast lasts approximately 1 hour, providing a hearty dose of laughter without overdoing it.


Booking Details:
Advance Booking: Comedy Roast bookings should be made at least 28 days before your event, with more time if possible.
Information Sharing: We require all the information we can use 14 days before the event, once again, the earlier, the better.
Content: Share stories, pictures, and details of events related to the stag, which we'll use to create a fun, chronological-themed roast.

Don't miss the chance to give your friend a stag party send-off like no other. Book your Comedy Roast today and let the hilarity ensue!
[powr-form-builder id="6149f51e_1625145020"]
Save this product for later